Acknowledgment to Supporters
SageMath development has benefited from the financial support of numerous institutions, and the previous and ongoing work of many authors of included components. A list of direct contributors is shown
here with a world map
and the history of changes can be seen
here
.
Awards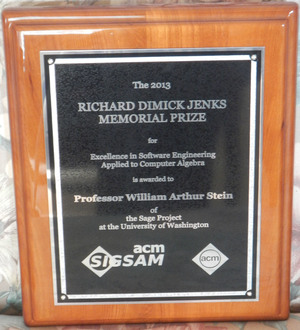 Jenks Memorial Prize, 2013
Financial and infrastructure support
Enthought, Inc. funded SageMath Days 8 in Austin, TX.
Google is directly funding work on SageMath and we were part of the Google Summer of Code since 2012. Past and current GSoC projects can be found at: 2012, 2013, 2014, 2015, 2016, 2017, and 2018.
Microsoft Research is generously funding a native port of SageMath to Microsoft Windows (2008).
The Heilbronn Institute and University of Bristol – SageMath Days 6 Workshop (November 10 – 14, 2007)
National Science Foundation
European Commission 🇪🇺
University of Washington

University of Washington's Royalty Research Fund (RRF) funded Stein for one year to work on the SageMath Notebook and Symbolic Calculus
Department of Mathematics (start-up money)
six undergraduates have been funded via the NSF VIGRE grant
Yi Qiang received a Mary Gates Scholarship for work on SageMath.

UW, Dept. of Computer Science, for providing the SageMath lab (Sieg Hall 312).
MSRI – two SageMath-related workshops
IPAM – hosted and funded SageMath Days 3 and SageMath Days 7.
SageMath Days 5, September 30 – October 3, 2007

funded and hosted by Clay Mathematics Institute

SageMath Days 18, December 1 – 5, 2009

funded and hosted by Clay Mathematics Institute
SageMath Education Day 1, December 5, 2009: funded by MIT and hosted by Clay Mathematics Institute

SageMath Days 20

CIRM: Centre International de Rencontres Mathématiques
FRUMAM: Fédération de Recherche des Unités de Mathématiques de Marseille
LIF: Laboratoire d'Informatique Fondamentale de Marseille
Programme Accès
CNRS: Centre National de la Recherche Scientifique, in particular by the "formation permanente du CNRS"

SageMath Days 23

GTEM under European Commission contract MRTN-CT-2006-035495

SageMath Days 36: p-adics in Sage
SageMath Days: Multiple Dirichlet Series, Combinatorics, and Representation Theory (February 11 - 15, 2013)
Glenn Tarbox — a high-end CUDA development machine and a substantial cash donation
Sun Microsystems — significant hardware discounts
Metamodul — access to hardware running AIX
Blastwave.org — providing a complete Solaris build farm for SageMath developers
GCC Compile Farm Project — access to a build farm for SageMath developers
The Beatrice Yormark Fund for Women in Mathematics — substantial cash donation
Mirror Network Hosting Providers
Distributing SageMath around the globe requires servers on each continent, each capable of transmitting data fast and reliably!
Indirect contributors
Karim Belabas: extreme help with PARI integration
John Boyer: edge addition planarity code
Timothy Brock: user feedback
Henri Cohen: discussion
Edray Goins: Feedback
Florian Hess: Feedback
Lloyd Kilford: Feedback
Qing Liu: genus2reduction
Stefan Mueller-Stach: Feedback
Fernando Perez: IPython (and helpful feedback, changes, etc.)
Michael Rubinstein: lcalc
Victor Shoup: NTL library
Michael Stoll: Sieving for points (part of mwrank)
Frank Lubeck: Conway polynomials
GMP Authors
Please
open a ticket
if we fail to acknowledge anybody's contributions!